She, Ed.D. Alumnus Received Graduate Dean's Distinguished Dissertation Award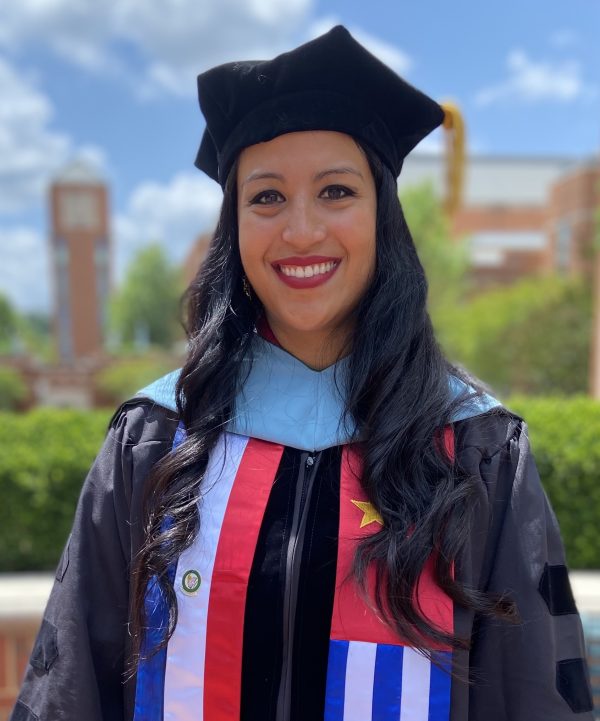 Liane She, alumnus of the Ed.D. in Educational Leadership and the Learning, Design and Technology concentration received the 2023 Graduate Dean's Distinguished Dissertation Award in the field of Humanities and Fine Arts. The Graduate School presents the distinction to recognize outstanding research and scholarship by a doctoral student at UNC Charlotte.
Dr. She has been an educator at Stanly Community College since 2017 as the Global Education Coordinator and Spanish and French instructor. She grew up in Paris, France, and English is her third language. As a Fulbright French Teaching Assistant in 2012, she became passionate about higher education, with specific interests in, language, teaching, and learning.
Dr. She's dissertation, "Faculty Experiences in Teaching Students with Visual Impairments in Higher Education Online Language Courses," was chaired by Dr. Florence Martin, and included committee members, Drs. Ayesha Sadaf, Jae Hoon Lim, Bobby Hobgood, and Concepción Godev. Dr. She conducted a qualitative study that explored accessibility issues for online courses in the United States. Ten interviews were conducted with language faculty across the country to understand their experiences, training, and resources used in delivering online language courses to those with visual impairments.
Fields of competition for the 2023 Graduate School award were Biological Sciences/Life Sciences and Humanities and Fine Arts. Competitors or nominated by a faculty member and complete doctoral degree requirements, including the dissertation, between July 1, 2021 – June 30, 2023. Nominations for the award require three letters of recommendation evaluating the significance and quality of the nominee's dissertation research. One must be from the dissertation chair, a member of the dissertation committee, and a third from a person of the nominee's choice.
Dr. She was a spring 2023 graduate and will receive $1,000 and an engraved plaque. In recognition of her award, Dr. She stated, "I am honored to represent the Humanities field through my dissertation study. My goal is to continue to disseminate my study around the world to shed light on the importance of online accessibility for all, in language courses."