Master of School Administration (MSA)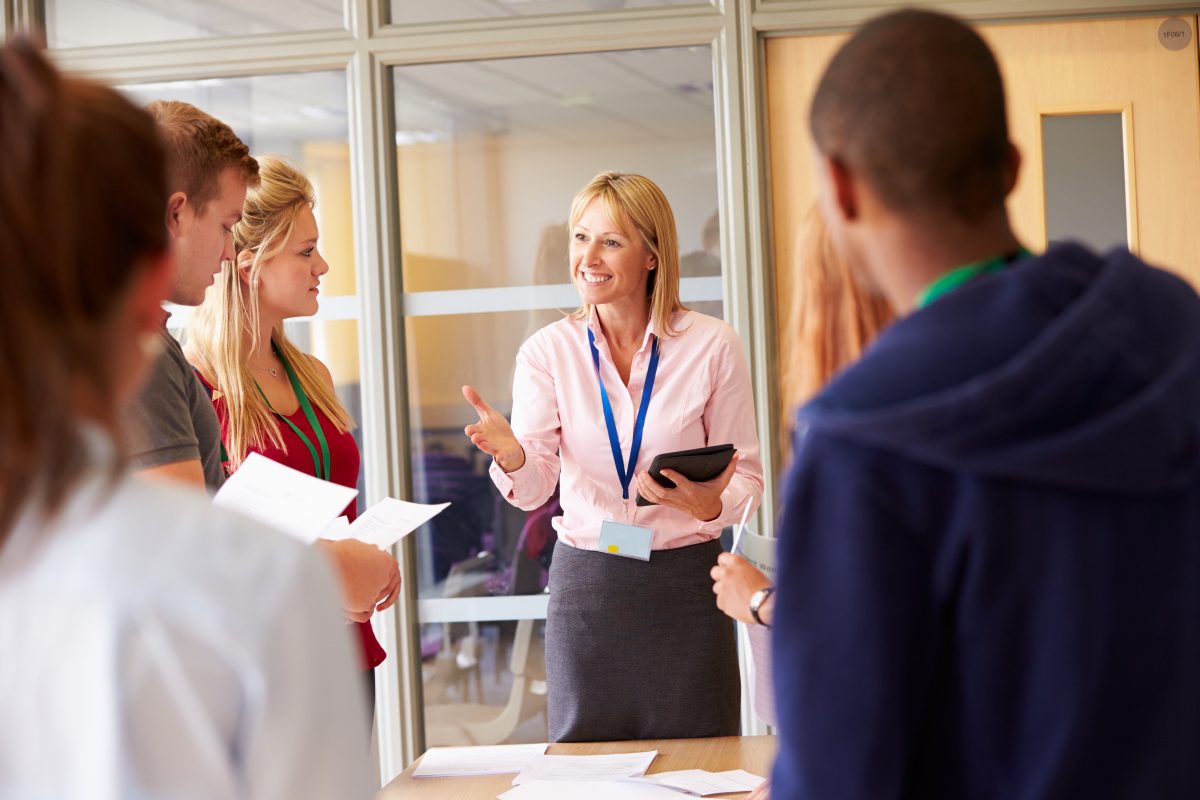 You're an experienced educator, but you find yourself drawn to a leadership position outside the classroom. As a teacher, you've made a positive impact on the students you have taught. As a school administrator, you can make a positive impact on the entire school and do even more to improve the lives of children every day. If you're ready to take the next step in your career, the Master of School Administration (MSA) at UNC Charlotte can help you reach your goal.
The Master of School Administration prepares educators who aspire to become school leaders. The 36-hour MSA degree consists of courses in educational leadership, research, technology, curriculum, law and instruction followed by a ten-month full-time internship under the direction of a principal-mentor and a university supervisor. The mission of the program is to prepare innovative, collaborative, effective, and reflective leaders who can develop school environments that ensure equitable and quality learning opportunities for a rapidly changing and increasingly diverse population. Graduates qualify for a PreK-12, Level 1 School Administrator's license (NC 012-Principal).
Why choose the UNC Charlotte Master of School Administration?
All of our professors have been school leaders

as principals, assistant principals, assistant superintendents or superintendents. They bring real-world experience and cutting edge research into the classroom to help our students become qualified and prepared school administrators.

Our program infuses the

practical application

of coursework into your educational experience. During a five-week summer intensive experience, our students apply what they learn by assuming the role of a school administrator in a simulation course. Candidates handle situations that typically face school leaders such as managing conflict, resolving staff issues, dealing with angry parents, and making budget decisions.

All students complete at least

400 or more hours in an internship placement

over two semesters. Candidates are challenged to demonstrate a thorough and well-integrated understanding of the principles, research findings, and theories addressed in their coursework and to apply these to educational practice and leadership situations.

During the program, each student is

mentored by a strong leading principal

to make sure they have a variety of leadership experiences, whether that is strategic, instructional, managerial, political or human resource leadership.

For the convenience of our students, classes are offered on and off campus, and you may choose either a full-time or part-time program of study. Distance education sites include:

Cabarrus County; Jay M. Robinson High School, Concord, NC
Gaston County: Gaston College, Dallas, NC
Iredell County: Unity Center, Statesville, NC
Kannapolis City Schools: A.L. Brown High School, Kannapolis, NC
Mecklenburg County: Mallard Creek High School, Charlotte, NC
Rowan County: Jesse C. Carson High School, China Grove, NC
Union County: Porter Ridge High School, Indian Trail, NC
​

The

cohort structure

of our program generates a strong bond with classmates who take the same classes together over two years. Your fellow students become a resource to help you analyze issues, work together to develop solutions and ultimately become part of a growing professional network.

Click here

to see what our students say about their cohort experience.

UNC Charlotte and Charlotte Mecklenburg Schools (CMS) have joined together in a collaborative effort with the prestigious New York City Leadership Academy to recruit, train, and support the strongest prospective high school principals through our

Aspiring High School Principals Program.

At the end of this innovative program, participants will be "principal ready."

Candidates seeking a North Carolina principal level I license prepare an

electronic portfolio

demonstrating their proficiency in all seven standards for school executives. In consultation with their principal, students identify a problem or issue for the school, research the situation and use data to develop an improvement plan.
Career Options
According to the Bureau of Labor Statistics, employment of elementary, middle, and high school principals is projected to grow 8 percent from 2016 to 2026, about as fast as the average for all occupations. As school-age populations increase and school administrators retire, the demand for qualified and experienced school leaders will continue to be in high demand. MSA graduates may pursue careers in such areas as:
Principal or assistant principal in public, private and charter schools
Superintendent or assistant superintendent
District director
District coach
Instructional coordinator
Preschool and child care administrator
Administrator at colleges and universities
Academic facilitator
Dean of students in public or private schools
School department head
Central office administrator
Consultant to school systems or individual schools
Community education director
Proficiency specialist
Graduates of the MSA may also elect to enroll in Ph.D. programs in Curriculum and Instruction or other related areas.
Student Opportunities
Each year we enroll a number Principal Fellows who receive a scholarship/loan to enroll in our MSA as full-time students. The North Carolina Principal Fellows Program provides a competitive, merit-based scholarship loan to individuals of exceptional academic ability who have teaching or relevant experience and who desire to enter school administration in a North Carolina public school. Fellows attend school on a full-time basis and earn an MSA degree in two years. Click here to find out more about this innovative program.
The Center for Graduate Life provides the support and sense of community students need to meet the challenges they will face throughout their graduate experience. The Center offers workshops on topics like grant writing, presentation skills, publishing in scholarly journals, and understanding the academic job search. Virtual workshops are available online on subjects such as graduate academic writing and research writing at the graduate level.
The University Career Center provides services, programs, and support for students and alumni. Services include such options as an Education Career Fair held each spring semester, individual appointments with career advisors and the Hire-A-Niner online job and internship database. Southern Teachers Agency is a free placement service that helps recent graduates in their search for education jobs in PK-12 private and independent schools around the South.
Student Success
Dr. Debra Morris – was a Principal Fellows during her enrollment in the UNC Charlotte MSA program. In 2007, she received the North Carolina Metlife High School Principal of the Year award. During her career, she was honored as the Wachovia North Carolina Principal of the Year. She is now Assistant Professor and Program Director of the MSA Program.
Meghan LeFevers, assistant principal at Bessemer City High School (BCHS) in North Carolina earned her MSA from UNC Charlotte in 2014. LeFevers was named a 2017-18 recipient of the Milken Educator Award, hailed by Teacher magazine as the "Oscars of Teaching," which comes with an unrestricted $25,000 cash prize. LeFevers is the only Milken Educator Award winner from North Carolina this year and is among the 44 honorees for 2017-18. Click here to find out how she earned this national recognition!
Learn from our outstanding faculty!
All tenure-track faculty conduct research, teach and are involved in community service. Various faculty members in the MSA program have also been acknowledged as leaders in school administration by being named Wachovia Principal of the Year for North Carolina, MetLife N.C. High School Principal, Colonial Life Insurance 21st Century School Superintendent Award and Higher Education Arts Educator of the Year by the N.C. Art Educators Association. Faculty members have shared their expertise with the community by consulting with school systems and serving in an advisory capacity on state-wide committees such as the State Superintendent's Principal Advisory Council and the North Carolina State Board of Education. Click here to find out more about the MSA faculty accomplishments.
Do you want to be a school leader who can improve the education of students? If so, click here to learn more about the requirements for the Master of School Administration, graduate student financial aid and the graduate application process.
Contact:
Dr. Debra S. Morris
Assistant Professor and Master's of School Administration Program Director
980-248-0392
704-687-1629 (fax)
dsmorris@uncc.edu
University of North Carolina at Charlotte
9201 University City Blvd.
COED 233
Charlotte, NC 28223