UNC Charlotte/CMS Aspiring High School Principals Program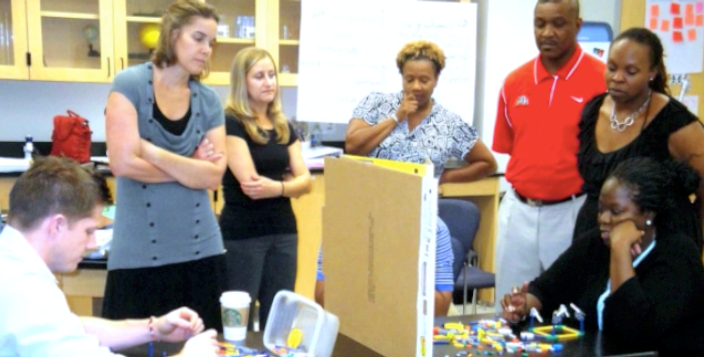 ​
NC Charlotte and Charlotte Mecklenburg Schools (CMS) have joined together in a collaborative effort with the support of the prestigious New York City Leadership Academy to recruit, train, and support the strongest prospective high school principals to serve the families and children in the high schools in the CMS school system. Candidates should be outstanding educators who demonstrate commitment to closing the achievement gap, professional resilience, strong communication skills, willingness to be self-reflective, commitment to continuous learning improvement, and professional integrity. It is the expectation that at the end of this innovative program, participants will be "principal ready."
The UNC Charlotte Department of Educational Leadership offers face-to-face delivery of a 36-hour Master of School Administration (MSA) program, a 21-hour School Administrator License program, and a 5-week intensive summer experience for candidates who currently hold a School Administrator License in Mecklenburg County, North Carolina. Participants in all strands of the program will participate in the 5-week summer intensive experience.
Program applicants will be admitted to the UNC Charlotte Graduate School according to its requirements and additional departmental requirements such as a grade "A" teaching license and recommendations from school leaders who can attest to an applicant's potential for school leadership. Candidates must be nominated by a CMS principal and/or CMS district leader.
Key Features of the Program:
The program simulates actual challenges and rewards that CMS public high school principals face by immersing participants in authentic, problem-solving exercises that build leadership capacity.
Support is tailored to address each participant's unique learning style and leadership development needs.
Participants become part of a vibrant learning community of fellow aspiring principal participants, mentor principals, and other leadership development practitioners.
The program is a carefully crafted set of experiences that will challenge participants in profound ways and prepare them to successfully lead a CMS public high school.
For more information, contact Debra Morris dsmorris@uncc.edu, facilitator of this program.